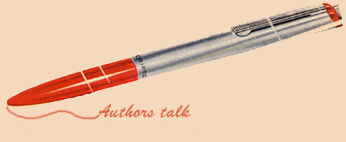 ____________________________________________________________________________________________
Max Elliot Anderson
"Six of my books for readers 8 and up have been published by Tweener Press. The titles are, NEWSPAPER CAPER, TERROR AT WOLF LAKE, NORTH WOODS POACHERS, MOUNTAIN CABIN MYSTERY, BIG RIG RUSTLERS, and SECRET OF ABBOTT'S CAVE. When I'm not writing I'm a professional film and video producer. I shot the first feature film in which Liam Neeson was the star and have produced or directed over 500 national television commercials for True Value Hardware Stores. I'm 58, married, and we have two grown children."
____________________________________________________________________________________________
What drove/inspired you to get started?
I grew up as a reluctant reader. Even as an adult I don't especially like to read for enjoyment. I'm much more visual. My degree is in psychology so I did some research into why I didn't like to read. I found some very interesting patterns. As a result I decided to try to write the kinds of books I would have enjoyed as a child. I wanted to write a book for that poor kid whose mother has brought home every possible book and it still hasn't worked. The exciting part for me is the fact that not only do reluctant boy readers love my books, so do avid readers, girls, and even adults.
Do you have any specialized training?
My writing credentials come more from my film and video work. For over thirty-five years I have been involved in the production of dramatic films, television programs, corporate videos and television commercials. But my favorite work has always been on the dramatic films for children. As a part of my work I have worked on scripts and writing copy. For me it was very natural to make the transition to the printed page.
Has this been something you've always wanted to do?
No. I grew up in a family of seven children. My father is the author of over 70 books. No one has ever attempted to take up writing professionally. It was kind of understood that the family already had a writer.
Have there been any obstacles along the way?
Only the time that it took to convince a publisher that it was time for rip-roaring, heart-pounding, edge of your seat chapter adventure books again for boys.
Before you got the all important contract, how did your friends and family react to your goals? Were they supportive?
I had tremendous support from everyone. Since I was the least likely in my family to try such a thing, I think they were equally surprised, except for my dad who was encouraging from the start. "You're going to be a multi-published author?" he told me, and he was right. He and my mother are in their eighties, but they read the early manuscripts and cheered me on.
Now that you have a book/books in print, do you get different reactions from friends and family?
The different reactions come from friends, mostly, because I didn't tell anyone what I was doing. Many friends and family have bought books and have been helpful by telling others about them.Ê
How did you land that very first book deal?
The two primary people at Tweener Press have twenty-five years of publishing experience between them. We first met on an Internet children's writer's group. Dr. Marin Baker asked to read one of my manuscripts. When he finished it he decided to establish a publishing company specifically for the purpose of releasing my books. Dr. Baker has his PhD. in early childhood education with a particular interest in childhood creativity. When we met for the first time, it was clear to everyone that we had common goals and interests.
Did you have any misconceptions in the beginning about the whole book process?
Yes...many! I had a lot of self doubt. Why would anyone ever want to read something I‰Ûªd written. The whole aspect of being a reluctant reader caused me to doubt that I could actually do it in the first place. I had checked out almost every book on writing, from the library, and they all told me I should read, read, read before attempting to write. I looked at it in a different way. Because I hadn't read all those books, I could start with something totally different. I wanted to write books that were intensely visual. Readers tell me that reading one of my books is like watching an exciting or scary movie.
How would you describe your work? What's the most important thing you'd like others to get out of it?
My books have been compared to The Hardy Boys, Tom Sawyer, Nancy Drew, Harry Potter, Scooby-Doo, Huck Finn, Star Wars, and others. I'm constantly stunned by the reviews: maxbookreviews.blogspot.comÊ I should point out that these books are not a traditional series. Each book has completely different characters, setting and plot. In the context of an exciting story, I'm also dealing with character development and many of life's important principles.
Do you have an agent? If yes, please explain how you acquired your agent and how do you think having one has helped you? If you don't have an agent, would you consider getting one?
I don't have an agent. I would consider an agent when and if I wanted to move the books to the next level. That would be to consider them as potential films.
Describe your relationship with your editor (s) (art director if applicable).
It's been a learning experience for me because there is so much about this aspect that I didn't know going in. I can tell a great story, but my mechanics need constant help in the area of punctuation and so on. When I started, I had already decided that I would listen to the people who knew what they were doing as it related to publishing. I can't think of a major issue that has come up yet where there was a problem.
How do you most often communicate with your publisher––e-mail, phone, or snail mail?
We do this mostly by email unless there's something very exciting. That always takes place on the phone.
What books do you have in the works now?
I've written a total of thirty manuscripts for this set of books. I have the titles and story ideas for at least another twelve, but I've chosen to stop writing for now so I can concentrate on publicity, marketing, and promotion for the titles that are already out. I've signed the contracts for books 7, 8, and 9. Those titles are, LEGEND OF THE WHITE WOLF, RECKLESS RUNAWAY, and THIRD HOUSE ON THE LEFT. Each of my books has a theme. For example, THIRD HOUSE ON THE LEFT deals with bullies. I've also co-written a manuscript for the adult market that looks at how humor affects our mind and health. That one doesn't have a publisher yet.
Is there anything you'd do differently with your new projects?
Hopefully I've set a personal standard for my work. Already, with thirty manuscripts, there is the potential for stories to be similar. So far, that has not happened. Each story is completely different. I don't want to write another story that's the same as another, so I'm only interested in those that would be unique. From the positive feedback that I'm getting from readers, I think I'll stay on the path I'm on for the foreseeable future.
Do you do any author events? If so, please describe what they generally consist of.
I've been to one book convention and two signings. Signings are difficult for first time authors like myself. Since no one knows you, no one comes. I've been looking for ways to bring other interests into the picture. This might involve a school, bookstore, library, and myself. I'm still working on some of those connections. There is the possibility that my church will introduce me and then have a signing in their bookstore. With over 2,000 people attending the church, something like that might work. And I'm always open to other opportunities.
How important do you think author appearances are for you and your book(s)?
I take a little different view of this. I do as much as I can to get my name out there, like a personal profile that just ran in my local Gannet newspaper. It included a good write up, my picture in color, and the cover of one of my books in color. But since my books already have a national distributor, I'm more interested in getting my name out to a wider audience. I've spent most of my time working on mailing lists, email address lists, reviewers, magazines, newspapers, and others in order to accomplish this. A few weeks ago I landed a nice article by Copley News Service and have had other opportunities like that, but on a smaller scale. I'm working with a regional newspaper right now that has a circulation of 30,000 and they plan some kind of article. Christian Book distributors Online plans an interview and they will also suggest my books for Christmas. Another online site has 500,000 members and over 3 million hits per month. A few months ago I did an interview for them and it will run beginning in November. For me, the appearances don't make as much sense.
What's the best thing about publishing a book? What's the worst?
The best thing has to be when the UPS driver pulls up and hands you a heavy box. You take it inside, slice it open, and pull out a fresh new copy of the latest book. There is no feeling like that. Right next to it is when a child writes to say how much they love a book and why. The worst part is having to wait six months to find out how the books are actually doing in the market. The author is the last one in the food chain to know anything and I find that difficult.
Any last words of encouragement for beginners?
Whenever I'm asked this question, I give the same answer. It comes from someone who passed it on to me. If you truly believe that you can write, you can. Just look at me, a reluctant reader. I'm living proof.