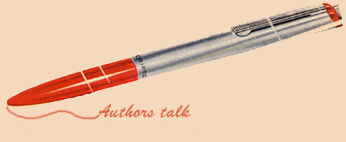 .............................................................................................................................................................................................
Christine M. Irvin
"I am the author of a series of 8 children's craft books published by Children's Press in 2002. I live in Grove City, Ohio (which is a suburb of the state's capital city of Columbus, Ohio), with my husband, a daughter, a son, a stepson and a dog. I like to read, write, do crafts, work in my garden, and shop. The titles of my books are: Milk Carton Mania; Pipe Cleaner Mania; Pie Pan Mania; Paper Plate Mania; Paper Cup Mania; Craft Stick Mania; Egg Carton Mania; and Cardboard Tube Mania. These books are designed for 2nd-4th graders. Each book contains 12 craft projects. The projects can be completed with ordinary, household items."
..............................................................................................................................................................................................
What drove/inspired you to get started?
I can't remember what inspired me to write, initially, as I've wanted to "be a writer" ever since I was a young child.
Do you have any specialized training?
I don't have any "specialized training" in the field of writing, but in addition to my writing credits, I've had lots of experience writing other things, such as letters, news releases, and newspaper and newsletter articles. Any kind of writing experience can be a type of "training" for other types of writing.
Have there been any obstacles along the way?
I don't suppose I've faced any great obstacles along the way to a successful writing career other than procrastination (my greatest fault!) and rejection letters. I have enough rejection letters to paper the walls of an entire room (really!), but I try not to take the rejections personally. Most of them came from the early years when I was just starting to write and was very eager to have something - anything - published! I sent manuscripts to places where I shouldn't have; the manuscripts either weren't good enough for publication yet (even though I thought they were at the time) or they weren't right for those particular publishing houses.
Before you got the all important contract how did your friends and family react to your goals? Were they supportive?
My friends were supportive of my writing goals, but with the exception of my husband (who has been incredibly supportive!), and my younger brother, my family members weren't very interested in what I was doing. They knew I was "a writer", but I don't think they realized what that really meant until I had my books published.
Now that you have a book/books in print, do you get different reactions from friends and family?
My friends are thrilled with my success! So is my husband and my younger brother. The rest of the family members seem to take my writing more seriously. Now they ask me, "Are you working on anything new?"!
How did you land that very first book deal?
I wrote a proposal letter outlining my idea for a series of craft books. I sent it to a few publishers. Grolier, Inc. (the parent company of Children's Press), responded to my proposal letter with a letter saying they were interested in the idea, but they needed more information. I had to give them a list of possible book titles, create a Table of Contents for one of the books, and send samples of directions for three craft projects I would include in that book. The publisher liked what I sent, so I was offered a contract for 4 books. Before I had finished the 4 books, they offered me a contract for 4 more, for a total of 8 books.
Did you have any misconceptions in the beginning about the whole book process?
That depends on where "the beginning" was? When I first got the desire to be a published author, I was just out of high school and very na•ve about the writing process. I sent several stories and poems to Christian magazines, but I wasn't able to sell anything. I got several handwritten and/or personalized rejection letters, but no offers to publish anything I wrote. I was too na•ve, at the time, to understand that even though no editor bought any of my manuscripts, the editors must have thought I had some potential as a writer or they wouldn't have taken the time to write me personal notes! Now, even though I still get rejection letters, I pay special attention to the ones that are personalized - it means the editor thinks my writing is good even if what I sent isn't suitable for them.
How would you describe your work? What's the most important thing you'd like others to get out of it?
These books are simply craft books for kids. I just want the kids to have fun doing the projects in the books; and, hopefully they'll be inspired to come up with their own craft projects.
Do you have an agent? If yes, please explain how you acquired your agent and how do you think having one has helped you? If you don't have an agent, would you consider getting one?
No, I don't have an agent. I would consider getting an agent only if I got so busy writing books that I didn't have time to market and promote what I've already written.
Describe your relationship with your editor (art director if applicable).
My editor and I don't have a very close relationship, now that the books are finished and in print, but during the writing process we were in contact, most by email, on a regular basis. I still occasionally have questions about things involved in the promotion of my books; when I need to contact my editor I either call her or send her an email.
How do you most often communicate with your publisher--email, phone, or snail mail?
As in the previous question, most correspondence has taken place by email.
What books do you have in the works now?
Even though I have authored a series of craft books, and I am thrilled with the way they turned out (and with the way they are selling), I've always wanted to have a full-color picture book published. So, I'm currently working on a picture book that I hope I will be able to sell - someday!!
Is there anything you'd do differently with your new projects?
Not really.
What's the best thing about publishing a book? What's the worst?
The best thing about publishing a book is seeing your creation "come to life", being able to hold the finished version of something that can be enjoyed by other people. The worst thing about publishing a book was having to wait so long to see the finished product. I signed the contract for the original four books in December 1998 and the contract for the second eight books the following fall. The books were originally to have been published in two lots: the first four in Fall 2001 and the second four in Spring 2002. However, they were all eight published in September 2002, almost 4 years after I signed the original contract. I was starting to think it was all a bad dream and that I would wake up to find that I didn't have a book contract after all!!
Any last words of encouragement for beginners?
Don't give up, keep writing, even if you accumulate nothing but rejection slips to start with. I had over 400 rejection slips (for various things - book manuscripts, short stories, poems, etc.) before I landed a book contract! I had had some stories and article published, but I couldn't get a publisher to offer me a book contract. I was just blessed that when it finally happened, my first contract was for four books. That seemed to make all the waiting and the rejection worthwhile!