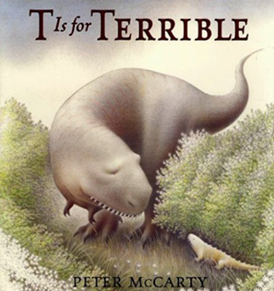 T Is for Terrible
by
Peter McCarty
At an early age, many children are aware of those extinct beastly creatures called dinosaurs, if not downright obsessed. And ask any young chid about a Tyrannosaurus Rex and they're sure to use the words "mean!" and "scary!" to describe one.
Unlike most books about dinosaurs, which portray the colossal T-Rex as an obstreperous meat eating terror, McCarty's book takes a different approach. Using his trademark household lead pencil mixed with atmospheric water color washes, the Caldecott winning author/illustrator manages to give the big animal a good dose of finesse. The Dino's toothy overbite and beady eyes beg the reader to understand his plight. "I do not know why I am so terrible," the giant begins... "I cannot help that I step on little flowers when I walk."
The reader may even let out an audible "Awww," when they see the great dinosaur chase away the pint-sized veggie eaters. "Would I be so terrible if I were pink?" he questions.
The book is more than just a humorous story––it calmly educates children, showing them that certain things in nature will always be the way they are–-there is no changing them."If I could, I would be a vegetarian. But I am a Tyrannosaurus Rex, and I do not eat trees," T Rex says. The second to last spread is wordless, illustrating the runty armed, big legged beast, innocently chasing his prehistoric neighbors. "I cannot help that I am so terrible," T Rex says on the last spread, and so ends the story.
T Is for Terrible is short, but its humor and quirkiness will prompt adult and young readers alike to dive right back to page one, over and over again. This book will make a great read-aloud but is also perfect for one-on-one readings. McCarty's latest is seasoned with the perfect amount of obnoxious and cute, combining a treat for the eyes and ears, and that's why this book is dino-mite!