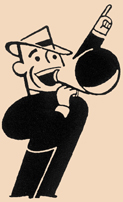 The Art of Promotion
by
Katie Davis
A few months ago, in the hours before I hosted an event for my latest picture book, I thought for sure I'd be singing "It's My Party and I'll Cry if I Want To" since I was convinced no one would show. Hours later, one of my author friends hollered, "How can I do this for my next book?!", trying to make herself heard over the din of about 400 people who had come to have fun and buys books.
When Rita Cammarano asked me to write a column on how illustrators can promote and market their art, I thought, "But her readers don't even know me." You have absolutely no clue whether to put any stock in what I have to say. So, as a way of dipping my feet into this column, I thought I'd start out by giving you a little background on this person who is deigning to give perfect strangers promotion advice. Think of this as my pre-column.
I'm no expert, but I do have some kind of weird gene that makes me actually enjoy the PR part of my job. I know plenty of people who would rather do long division than deal with self-promotion. Personally, I'd rather get a cavity filled sans novocaine than have anything to do with numbers, but that's just me.
In college I majored in photo-journalism because I figured how hard could the homework be? I considered transferring to art school but got the old, "How'd you going to make a living with that degree?"
So what was I good for? I was always messing around with artsy project, but that had just been for fun. I wasn't a Real Artist. Writing wasn't a problem though, so I got a job in public relations.
After working in PR and advertising for a few years, I got fired enough times to realize maybe I should be working for myself. Anyway, I hated wearing pantyhose.
I started a company called Dirty Dishes, through which I created, marketed, sold, packed and shipped my own line of handpainted ceramics. If no one knew about my line, no one would buy it. I learned a lot about self-promotion while doing Dirty Dishes.
After running the company for a few years, painting the same things over and over, I decided to license my designs and only have to do them one time.
After a few years of licensing, I started getting my books published. I'd been writing them for decades. Sure they were really bad, unpublished ones, but I like to call that practice.
Now I divide my professional time between writing and illustrating my books, giving speeches and workshops to author, illustrators, teachers and librarians, and doing school visits.
My book party was a big success. I gave my community a lot of fun on a weekend afternoon, sold a bunch of books, got hugged by a 20 foot python, and got coverage in Publisher's Weekly because of it.
I've given workshops and speeches on how to promote one's work, and it's even easier if you're an illustrator. My party was just one inspiration. But I have way more ideas than I can possibly implement and since I can't stand ideas to sit around unused, growing moss, I plan to share them with you in future columns (and tell you why I had a python at my book party).
To learn more about Katie and her books visit www.katiedavis.com