MAY-
Okay, it's been a while. A long while. But it's time to pick up the slack and get back into the swing of things. And what better way to start things off than a good old chat about plagiarism!
There is lots of talk about How Opal Mehta Got Kissed (a first time novel that scored a 500,000 dollar advance), and how its author Kaavya Viswanathan (a current Harvard undergrad), plagiarized several Megan McCafferty books. Viswanathan's book may become a collector's item, say some, as it is being pulled from bookstore shelves everywhere and will not be reprinted.
Here are some good of almost identical texts between Viswanathan's OPAL and McCafferty's SLOPPY FIRSTS:
From Sloppy Firsts:
"Sabrina was the brainy Angel. Yet another example of how every girl had to be one or the other: Pretty or smart. Guess which one I got. You'll see where it's gotten me."
From How Opal Mehta Got Kissed:
"Moneypenny was the brainy female character. Yet another example of how every girl had to be one or the other: smart or pretty. I had long resigned myself to category one, and as long as it got me to Harvard, I was happy. Except, it hadn't gotten me to Harvard. Clearly, it was time to switch to category two."
From Sloppy Firsts:
"Bridget is my age and lives across the street. For the first twelve years of my life, these qualifications were all I needed in a best friend. But that was before Bridget's braces came off and her boyfriend Burke got on, before Hope and I met in our seventh-grade honors classes.
From How Opal Mehta Got Kissed:
"Priscilla was my age and lived two blocks away. For the first fifteen years of my life, those were the only qualifications I needed in a best friend. We had first bonded over our mutual fascination with the abacus in a playgroup for gifted kids. But that was before freshman year, when Priscilla's glasses came off, and the first in a long string of boyfriends got on."
From Sloppy Firsts:
"He's got dusty reddish dreads that a girl could never run her hands through. His eyes are always half-shut. His lips are usually curled in a semi-smile, like he's in on a big joke that's being played on you but you don't know it yet."
From How Opal Mehta Got Kissed:
"He had too-long shaggy brown hair that fell into his eyes, which were always half shut. His mouth was always curled into a half smile, like he knew about some big joke that was about to be played on you."
From Sloppy Firsts:
"Finally, four major department stores and 170 specialty shops later, we were done."
From How Opal Mehta Got Kissed:
"Five department stores, and 170 specialty shops later..."
The author claims she has a photographic memory and ACCIDENTALLY plopped parts of her favorite book into her own. Is that possible? Maybe. I can certainly believe that a few of her favorite sentences got thrown in there... but whole paragraphs? We're not talking about brilliant prose here (see above). Surely if the author has a photographic memory she'll remember where those words are coming from!
Perhaps something far more sinister is at work here. Although Little, Brown published the teen's novel, a packager called Alloy Entertainment was the real culprit. Alloy is best known for Gossip Girl, The A List, and a hoard of other teen/crossover favorites. What does Alloy do? The works. They acquire, they edit, they design, and then sell the finished product. Think of Alloy as a committee ... much like how a TV show is made. A group of people work on the book together. It's also important to note that on the copyright pages of these books they say "© Alloy Entertainment" instead of the author's name. Why would an author give up their rights to the book? ... Unless they didn't really write it. So then the question is how much did Viswanathan have to do with her book?
PW had this to say:
"Realizing that a major house is willing to pay major money for a book that executives knew was going to require major work smacks of something majorly disturbing. It suggests that even the most well-bred publishing houses are not as desperate to find promising writers and great novels as they are to find attractive authors (preferably with interesting backstories) with whom they can match up test-marketed, packaged stories. And then they can take all the credit."
This brings me to part 2 of the discussion. Why are publishers producing material that reads like an adult romance novel for the teen market? Do teens really need to read volume after volume of superficial thoughts and feelings that revolve around sex and drugs? Has the need to make a quick buck gone too far? The NYT published a lengthy article on the subject, as well as other news sources.... more to come shortly.
JANUARY -
I have to voice my opinion about the A MILLION LITTLE PIECES controversy. First let me say this: I haven't read the book YET. It's on my reading list. Even though the book isn't a children's book, I think discussing it is relevant. How people are reacting to a memoir could definitely affect all of publishing in some way, however small.
James Frey and his publisher were on Oprah today. I watched with great interest. Oprah was pissed off. All hot and bothered. Although she originally supported the author at the beginning of this month, she reneged today. She was embarrassed saying "I made a mistake and left the impression that the truth does not matter, and I am deeply sorry about that."
Frey admitted wrong doing and said "I made a mistake in writing the book and promoting the book." He did not look like a happy camper on the Oprah show.
Another guest on the Oprah show called the book "a betrayal."
Okay, so here's my opinion. Since when does a memoir have to be perfectly accurate? NO ONE can remember exactly what happened in their lives ten years ago…five years ago…even yesterday for some people. Since I've been working on nonfiction books lately, I can say with impunity that even NON FICTION is often inaccurately recorded. If you read ten things on the same subject from ten different sources you'll find conflicting "facts." My biggest defense for Frey is that on top of memory being highly inaccurate, the guy was also on drugs. And honestly, a good book is a good book. Why cares whether Frey walked down the street with two people or one? Now, I will say that I think an author can go TOO far when exaggerating parts of a story which he/she is calling a memoir. Certainly saying you spent a year in jail when in fact it was only a few hours is probably too much. Frey screwed up there big time. But for Oprah's guest from the Washington Post to blame the publisher and accuse them of not fact checking, to me, is a bit ridiculous. Why would a publisher fact check a memoir? This is all coming out because the book has become a hugely successful bestseller, and perhaps, there are some jealous individuals out there. I read one piece in PW from another author currently peddling her memoir. She sounded, quite frankly, a bit bitter. I'm willing to bet that plenty of inaccuracies can be found in most memoirs. Besides, things HAVE to be changed in memoirs because otherwise authors would get their butts sued!
Oprah wrapped up her show by demanding a change in publishing saying "I'm trusting you, the publisher, to categorize this book whereas fiction or autobiographical or memoir. I'm trusting you." She said to Frey "Why did you have to LIE?"
I will conclude with this. Should the book have been promoted as "honest" and "accurate"? No. But seriously folks, lighten up. We're not talking about a text book on Abraham Lincoln. Frey has probably learned his lesson and I doubt many people would EVER take another memoir seriously from him again. Case closed
THE ALA AWARDS ARE IN!
NEWBERY WINNER
Criss Cross by Lynne Rae Perkins(Greenwillow)
CALDECOTT WINNER
The Hello, Goodbye Window illustrated by Chris Raschka, writen by Norton Jester (Hyperion)
CALDECOTT HONORS
Rosa illustrated by Bryan Collier, written by Nikki Giovanni (Holt)
Zen Shorts, written and illustrated by Jon J Muth (Scholastic Press)
Hot Air: The (Mostly) True Story of the First Hot-Air Balloon Ride written and illustrated by Marjorie Priceman (Atheneum/Schwartz)
Song of the Water Boatmen & Other Pond Poems, illustrated by Beckie Prang, written by Joyce Sidman (Houghton).
NEWBERY HONORS
Hitler Youth: Growing Up in Hitler's Shadow by Susan Campbell Bartoletti (Scholastic)
Whittington by Alan Armstrong, illustrated by S.D. Schindler (Random/Lamb)
Princess Academy by Shannon Hale (Bloomsbury)
Show Way by Jacqueline Woodson, illustrated by Hudson Talbott (Putnam).
PRINZ
Looking for Alaska a first novel by John Green (Dutton)
PRINZ HONORS
Black Juice by Margo Lanagan (HarperCollins/Eos)
I Am the Messenger by Markus Zusak (Knopf)
John Lennon: All I Want Is the Truth by Elizabeth Partridge (Viking)
A Wreath for Emmett Till by Marilyn Nelson, illustrated by Philippe Lardy (Houghton).
1ST ANNUAL THEADOR SEUSS GEISEL AWARD
Henry and Mudge and the Great Grandpas by Cynthia Rylant, illustrated by Sućie Stevenson (Simon & Schuster)
MILDRED L. BATCHELDER AWARD
An Innocent Soldier by Josef Holub, translated by Michael Hofmann (Scholastic/Levine)
SIBERT AWARD
Secrets of a Civil War Submarine by Sally M. Walker (Carolrhoda).
CORETTA SCOTT KING
Day of Tears by Julius Lester (Hyperion/Jump at the Sun)
CORETTA ILLUSTRATOR
Rosa illustrated by Bryan Collier (Holt)
JOHN STEPTOE AWARD FOR NEW TALENT
Jimi & Me by Jamie Adoff (Hyperion/Jump at the Sun)
MARGARET A. EDWARDS AWARD (lifetime contribution to YA)
Jacqueline Woodson
NEWS IN NOVEMBER… AND INTO DECEMBER
Yes, yes, I've been slacking off. There has been plenty of news and I haven't recorded any of it. No time. Alas. But below are some interesting news items.
Got a comment? Write it here.
Richard Scary has gone "PC." Check out this interesting link for some before and afters. It's like a Highlights "find what's wrong" game.
Funny little asides suck as "beautiful screaming lady" changed to "cat in danger." "Brave hero" to "fire fighter." And there's a picture of a raccoon jumping. The old page read "jumping gentleman" which I think is pretty funny. Now there are no words at all to describe him. So sad. And, of course, in all the domestic scenes, a man has been added to help mom out. Before, she cooked alone! This is pretty interesting, so check it out! The plane section "handsome pilot" had been changed to plain old "pilot." "pretty stewardess" has been changed to "flight attendant." Hey, there's nothing wrong with things being a little sexed up! Or is there?… All the "fireman," "policeman, and other terms that end in "man" have been removed. I must say that during my brief pizza delivery stint, the whole "pizza guy" thing really annoyed me. I wanted to scream "I'm not a guy!" So, perhaps all of those changes are for enraged gals such as myself. Love it or hate it, the changes are here to stay. Grab that old copy from your used bookstore now!
Stan Berenstain, co-creator of the Berenstain Bear books, has died at the age of 82. "Everybody feels like it was the end of an era," said Berenstain's editor Kate Jackson. "The things that they wrote about very much came from their family experience and their heart." Whether you're a reader who thinks the series is too preachy or whether you can't get enough (such as my sister who at a young age had to collect THEM ALL), the publisher does plan to continue the series.
Kirkus Reviews picks the best books of the year and highlights ten of its favorites.
The Real Revolution: The Global Story of American Independence, by Marc Aronson
Granite Baby, by Lynne Bertrand; Illus. by Kevin Hawkes
The Penderwicks: A Summer Tale of Four Sisters, Two Rabbits, and a Very Interesting Boy, by Jeanne Birdsall
Traction Man Is Here!, by Mini Grey
The Minister's Daughter, by Julie Hearn
The Hello, Goodbye Window, by Norton Juster; Illus. by Chris Raschka
Jazz ABZ: An A to Z Collection of Jazz Portraits, by Wynton Marsalis; Illus. by Paul Rogers
A Wreath for Emmett Till, by Marilyn Nelson; Illus. by Philippe Lardy
Eyes of the Emperor, by Graham Salisbury
Jellybeans, by Sylvia van Ommen
NEWS IN NOVEMBER
Could the "old" Goodnight Moon become a collectors item? Ah, the magic of Photoshop. HarperCollins will soon be releasing a new and improved version of Goodnight Moon, complete with a doctored photographic image of the book's illustrator, Clement Hurd. Surely children everywhere were running out to buy their own pack of cigarettes, thanks to Mr. Hurd's reckless behavior. That's why HarperCollins decided the book needed a change. The book is now safe for children everywhere! The book's big step into the PG arena has sparked some debate. Word of the decision has snowballed and even made the NYT.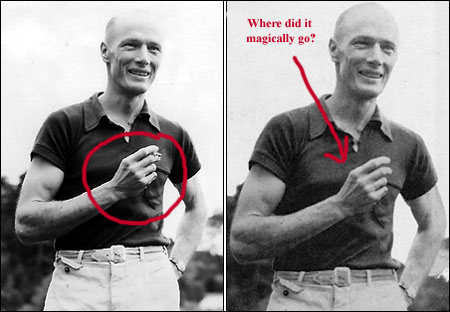 Editor in Chief––Kate Jackson––had this to say about the cigarette's removal: "We had a lot of copies out on a table, and all of a sudden we realized that in the photo on the back of the jacket he was holding a cigarette…It is potentially a harmful message to very young kids and it doesn't need to be there."
Some fans of the cherished children's story beg to differ. Many booksellers are up in arms! A website has even been created in protest, and you can vote for "cigarette" or "no cigarette" at www.goodnightreality.com It seems that the website is now dealing with its own controversy––did someone, perhaps from HarperCollins, vote thousands of times from the same computer to tip the scales?
Good night reality, indeed.
Well, it's been a while. I have a LOT of catching up to do, which I will do shortly.
First off, here are the children's books the New York Times considers best illustrated of the year:
Are You Going to Be Good? by Cari Best, illus. by G. Brian Karas (FSG/Foster)
Brave Charlotte by Anu Stohner, illus. by Henrike Wilson (Bloomsbury)
Carmine: A Little More Red by Melissa Sweet (Houghton)
Chato Goes Cruisin' by Gary Soto, illus. by Susan Guevara (Putnam)
Encyclopedia Prehistorica: Dinosaurs by Robert Sabuda and Matthew Reinhart (Candlewick)
The Hello, Goodbye Window by Norton Juster, illus. by Chris Raschka (Hyperion/di Capua)
Jitterbug Jam by Barbara Jean Hicks, illus. by Alexis Deacon (FSG)
The Problem with Chickens by Bruce McMillan, illus. by Gunnella (Houghton)
Terrific by Jon Agee (Hyperion/di Capua)
Traction Man Is Here! by Mini Grey (Knopf)   
NEWS IN SEPTEMBER (... and catching up)
First "The Donald" and now Martha. Martha Stuart is going to be hosting her own style of the apprentice this fall. And what's the theme for her first task? Children's books! Martha said "It's taking two well-known children's stories, Jack and the Beanstalk and Hansel and Gretel, and adapting them for the modern child. The contestants had to rewrite the story, have an artist illustrate it, edit it, print, and promote, all in a very short amount of time. The children's-book business is gigantic. I'm certainly an active proponent of that industry." It seems that these days, everyone wants a piece of the children's book action. If only they knew how many hours are involved and how little pay there can be.…
King and King, the book about gay relationships, by Linda de Haan and Stern Nijland (Tricycle Press, 2002) is stirring up more controversy. Representative Walter Jones intends stop to these books from being readily available on library shelves. He said about the book "I'll bet you money that 75 to 80 percent in the country would be offended." He is proposing a bill called the Parental Empowerment Act of 2005. This bill would create a parental review board of 15 members. A majority vote would decide which books were carried by the local libraries in each of the review members' towns. If Jones is successful, books like King and King won't be seeing the light of day in many states.
Look for a flood of Katrina books at a store near you.
Amazon is now officially a publisher. Go to www.amazon.com/shorts and for 49 cents, you can buy short literary works. This is from Amazon's website–– "Looking for Something New to Read? Amazon Shorts are never-before-seen short works from a wide variety of well-known authors, available only on Amazon.com. Try a new genre or a new author--there's something for everyone. Amazon Shorts are: * New short-form literature from top authors for only 49 cents * Delivered electronically; there are no printed editions * Yours forever after purchase; save or print and read" It looks like B&N is no longer alone!
More publishing moves…
Simon & Schuster
Rubin Pfeffer has been made senior v-p and publisher of S&S's trade division. Simon & Schuster Children's Publishing has named Rubin Pfeffer senior v-p and publisher. S&S is also promoting several individuals. Debbie Sfetsios is now art director of Atheneum Books for Young Readers and Margaret K. McElderry Books. Karene Petrillo is now production manager. Daniel Figenshu is associate business manager. Kimberly Lauber is education and library marketing coordinator. S&S also hired a new editorial assistant, Kiley Fitzsimmons.
Holiday House
Terry Borzumato has moved over from Random House to be v-p of marketing.
Farrar, Straus & Giroux Books for Young Readers
Sabeth Ryan Albert has been promoted to assistant publicity director. Robbin Gourley has jumped from art director to creative director.
Marshall Cavendish Children's Books
Rick Jusko is v-p of sales.
Harry Potter everywhere. As a bookseller, I've had to witness the craze first hand. Below are some photos from B&N NYC's Union Square midnight party. B&N went all out and hired many costumed actors, caterers to serve magical pop rock drinks, and they put new TVs everywhere so that the hoards of Harry Potter fanatics could watch JK televised live. B&N also hired magicians and a few live owls.
NEWS IN JULY
Who is the real author of the Madonna books? There is some big news breaking that Madonna may not have penned her own books! Who did? It is rumored that Eitan Yardeni, the Kabbalah center's ghost writer should get the credit. Whether writing the series is anything to brag, however, is a separate debate. The informant said "Last summer, he (Eitan) flew to London to help Madonna write the last book, but she didn't really do anything."
Houghton Mifflin will be getting a new publisher starting July 11th. Alan Smagler will oversee Houghton Mifflin Books for Children, Clarion Books and Kingfisher Publications.
Another celebrity book is coming! The latest celeb to join the ranks is Paul McCartney. Dutton Children's Books, an imprint of Penguin Group USA, will be publishing High in the Clouds: An Urban Furry Tale. The first print run will be a meager 500,000 copies. Look for McCartney's book in October.
Could this be the strangest marketing ploy ever? An "author" is claiming on his website––www.savetoby.com––that he will eat his furry little companion if his book does not sell 100,000 copies.This is what the website states:
"Toby is the cutest little bunny on the planet. Unfortunately, he will DIE on November 6th, 1006 if you don't help."
Save Toby.com then goes on to say "I'm going to eat him… God as my witness, I will devour this little guy…"
If you have any interest in saving the bunny, you'd better hurry! So far the entrepreneur has sold 3,467 books. He's got a long way to go!
MORE NEWS IN JUNE (and more catching up for previous months)
At the BEA: I took my virgin tour of the BEA this year. It was crowded and confusing, to say the least. Thank goodness my friend who works for Bloomsbury marketing gave me a guided tour! Also, a big thank you to my friend who works at the Children's Book of the Month Club for lending me her pass. Little does she know that I made several choice purchases for her book club… namely some edgy, explicit YA material. I think it's time CBOMC gets raunchy! (I'm just kidding...)
The highlight for me, at the BEA, included meatballs served by one of the actors from The Sopranos (Bobby Baccalieri), who was pitching his yet-to-be-released MG novel called Nicky Deuce… a free white chocolate sampler (I enjoyed testing them more than perusing the books, I'm ashamed to say)…some free BBQ––the cheese macaroni was pretty darn good…and of course, I grabbed some free stuff––the newest Libba Bray, a bag with a dog on it, and some other stuff that I haven't had a chance to look at yet. Would anyone like to donate bookshelf? I'm out of room.
Some children's sequels to look for, as seen at the BEA are:
Inkspell by Cornelia Funke, the sequel to Inkheart (Scholastic/Chicken House)
Eldest by Christopher Paolini, next book in the Eragon series (Knopf)
Rebel Angels by Libba Bray, sequel to A Great and Terrible Beauty (Delacorte)
The Mirror of Fire and Dreaming by Chitra Divakaruni, sequel to The Conch Bearer (Roaring Brook)
Harcourt has done some reorganization and the Gulliver imprint is being dissolved. Books under it will now be published under the Harcourt Children's Books name. The Publisher, Lori Benton said "The shift is meant to give us a bigger presence in the marketplace as a unified group." There have been quite a few promotions––Allyn Johnsto is now editor-in-chief, Liz Van Doren will be editorial director for Harcourt (previously director of Gulliver), Kathy Dawson will be associate editorial director (previously at Putnam), Jeannette Larson will be executive editor, and Andrea Beebe and Kate Harrison are promoted to editors.
Two predicted heavy hitters on the S&S list have been postponed until 2006. Eloise in Hollywood––a second posthumous Kay Thompson book, newly illustrated Hilary Knight and Olivia Does Christmas––by Ian Falconer. The reasons stated were that Knight needs more time and Falconer is ill.
It's not that old yet. Click here for previous months of publishing news.

–––––––––––––––––––––––––