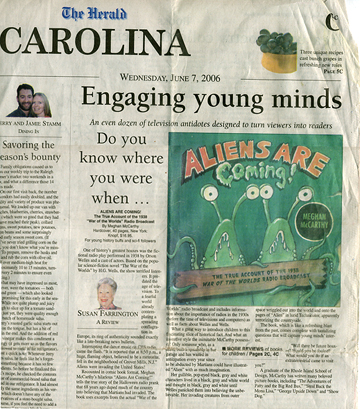 The Stanford Herald
Engaging Young Minds
by Susan Farrington
Do you know where you were when...
Aliens Are Coming! by Meghan McCarthy
For young history buffs and sci-fi followers
One of history's greatest hoaxes was the fictional radio play performed in 1938 by Orson Welles and a cast of actors. Based on the popular science=fiction novel "The War of the Worlds" by H.G Welles, the show terrified listeners. It predated the age of television. To a fearful world already contemplating a spreading conflagration in Europe, its ring of authenticity sounded exactly like a late-breaking news bulletin.
Interrupting the dance music on CBS radio came a flash. "It is reported that at 8:50 p.m., a huge, flaming object, believed to be a meteorite, fell in the neighborhood of Grovers Mill, N.J." Aliens were invading the United States!
Recounted in comic book format, Meghan McCarthy's hilarious "Aliens Are Coming!" tells the true story of the Halloween radio prank that 68 years ago duped much of the country into believing that Martians had invaded. The book uses excerpts from the actual "War of the Words" radio broadcast and includes information about the importance of radios in the 1930s (before the time of televisions and computers) as well as facts about Welles and Wells.
What a great way to introduce children to this fascinating slice of historical fact. And what an inventive style the inimitable McCarthy possesses! Only someone who, as a child, built a space ship in her garage and has waited in anticipation every year since to be abducted by Martians could have illustrated "Alien" with as much imagination.
Her gullible, pop-eyed black, gray and white characters lived in a black, gray and white world and thought in black, gray and white until Welles panicked them into believing the unbelievable. Her invading creatures from outer space wriggled out into the world and onto the pages of "Alien" in lurid Technicolor, apparently terrorizing the countryside.
The book, which is like a refreshing blast from the past, comes complete with tantalizing questions that will capture young minds' interest.
"Will there be future hoaxes? Would you be fooled? What would you do if an extraterrestrial came to visit you?"
A graduate of the Rhode Island School of Design, McCarthy has written many beloved picture books, including "The Adventures of Patty and the Big Red Bus," "Steal Back the Mona Lisa," "George Upside Down" and "Show Dog."
Another great blog review from Planet Esme!
The Horn Book
Meghan McCarthy Aliens Are Coming!: The True Account of the 1938 War of the Worlds Radio Broadcast; illus. by the author 40 pp. Knopf 2/06 ISBN 0-375-83518-0 $16.95 g Library edition ISBN 0-375-93518-5 $18.99 (Primary)
Though her illustrations of rocket ships and meteorites put one in mind of the usual aliens-visiting-Earth picture book, McCarthy's actual subject is the 1938 radio play that convinced many listeners there was a real invasion. Introductory pages explain why many people might have been fooled: "Hey, kids! Did you know that in the 1930s most Americans did not own TVs?" Black-and-white paintings in McCarthy's simple broad-brush style show families gathered around the radio that October night; once the radio broadcast itself comes on, the illustrations shift into color (predominantly red and black) to portray the putative alien landing. (The fictional aliens -- with their eyes bugging out fearfully from eyestalks and their drooling mouthlike orifices gaping in frowns -- look as alarmed as the humans.) The efficient narrative line, with actual excerpts from the radio broadcast in italics, touches on the real-life panic in a few sentences, each with a grayscale vignette. An author's note (with bibliography) describes later broadcasts of the play that provoked similar reactions. Chock-full of drama both imagined and real, this compact account with numerous visual cues to help readers distinguish between fiction and real life will surely keep all eyestalks -- er, eyes -- riveted. ANITA L. BURKAM
Check out this great reviewfor ALIENS by a NYC Public Librarian. She reviews a book a day so I recomend checking out her blog in its entirety.
School Library Journal * Starred *
MCCARTHY, Meghan. Aliens Are Coming!: The True Account of the 1938 War of the Worlds Radio Broadcast. illus. by author. unpaged. maps. reprods. bibliog. CIP. Knopf. 2006. Tr $16.95. ISBN 0-375-83518-0; PLB $18.99. ISBN 0-375-93518-5. LC 2005008941. Gr 3-6-In this picture-book account of the 1938 broadcast of Orson Welles's adaptation of H. G. Wells's novel, the author employs several creative methods to transport readers back to the heyday of radio. She leads into the story with a punchy introduction to the period, which is delivered in the form of a speech bubble by a smiling radio announcer. From there, black-and-white illustrations depict a family listening to an ordinary broadcast, which is interrupted by reports of an alien invasion. For the rest of the book, events described on the radio appear in lurid color illustrations reminiscent of old science-fiction magazines, while events in the real world remain in black and white. Excerpts from the actual radio play describe a vicious extraterrestrial attack, while the text describes the pandemonium ensuing outside the radio station and across the country. In the end, McCarthy reveals that the invasion was just a story, and an author's note gives a more detailed account of the play's creation and broadcast. In the spirit of the original, the author does not reveal the fact that the broadcast was actually a play until the end. This conceit would make the book a great read-aloud to introduce a unit on the 1930s. The interplay between the text of the play and the author's description of actual events is effective, and the illustrations are exaggerated and funny. A unique treatment of a fascinating topic, and sure to have wide appeal.-Rachael Vilmar, Atlanta Fulton Public Library, GA
Kirkus Reviews * Starred *
Sandwiched between a look at Depression-era radios and a set of fanciful period advertisements, McCarthy delivers a semi-serious account of the 1938 "War of the Worlds" broadcast, illustrating both passages from the script and briefly told descriptions of widespread panic with smudgy cartoon scenes featuring bug-eyed monsters and equally bug-eyed people. The author closes with a substantial note that analyzes the broadcast's immediate and long-term effects, points out that the announcers repeatedly admitted they were presenting a drama during the broadcast, mentions several later revivals here and internationally and notes the response of HG Wells himself to the original production. She has also set up an invitingly designed web site with an array of relevant links. It's a lighthearted but well-researched glimpse into one of our country's quirkier collective moments, and readers will (justly) come away wondering whether it could happen again.
Booklist
Gr. 1-3. In an average American living room of 1938, folks gather around the radio for a night's entertainment, when there's a new bulletin: "Aliens are coming!" Orson Welles' infamous Halloween trick, his October 30 broadcast of H. G. Wells' War of the Worlds, is greatly excerpted and put together with quirky, imaginative artwork that reinforces the fantasy. McCarthy sets the scene in a preface, ostensibly delivered by a radio commentator, and clearly identifies the speakers in colored type before each quote. Using a 1930's art style, and a palette comprising mostly muted grays and reds, McCarthy evokes an era gone by, at the same time creating a cozy nostalgia. Even somewhat older, media savvy kids, who may view the gullibility of the characters with a disdainful eye, will be disarmed by the depictions of panicked faces and slimy Martians, eyes on stalks, that appear amid eerie red light. An abrupt ending notwithstanding, this is packed with age-appropriate thrills and scares. A lengthy author's note includes necessary background on both figures. Jesse Karp Copyright © American Library Association. All rights reserved
Seattle Times
Zoom into summer with books about space exploration
By Kari Wergeland Special to The Seattle Times
Though the 1962 World's Fair is long over, the Space Needle still anchors our skyline. It's hard to grow up in the Puget Sound region without thinking about space — kids who enjoy imagining what might be going on up there can certainly visit the Space Spot, housed close by the Needle in the Pacific Science Center (when it's not on the road as a traveling exhibit). Or perhaps they'd prefer contemplating the cosmos through the pages of a good book....
"Aliens are Coming! The True Account of the 1938 War of the Worlds Radio Broadcast" by Meghan McCarthy (Knopf, 32 pp., $16.95, ages 5-up) opens by reminding kids about the "olden days," a time when people listened to the radio for their news and entertainment. So back in 1938, actor Orson Wells adapted the H.G. Wells classic "The War of the Worlds" for radio. Problem was, the broadcast was so realistic many Americans actually believed aliens from Mars were invading the country. Genuine pandemonium ensued. McCarthy's gloomy illustrations nicely set the stage for this story — a stage just waiting for stalk-eyed aliens and ominous looking spaceships.
ST. LOUIS POST-DISPATCH
Science books for kids
By Sarah Bryan Miller
Orson Welles made his name with the radio broadcast of "The War of the Worlds." Now, "Aliens Are Coming - The True Account of the 1938 War of the Worlds Broadcast" (written and illustrated by Meghan McCarthy; ages 4-8; Knopf; 40 pages; $16.95) relives it. Why include a book on a famous hoax in a roundup of science books? Certainly, psychology has some claim to scientific status but, more important, crazes, delusions and mass hysteria are as old as humankind, and every budding scientist needs to be inoculated with a healthy dose of skepticism. This is a salutary reminder for youngsters that Grandfather was just as silly as today's youth. McCarthy's delicious illustrations - featuring goggle-eyed humans and appropriately slimy, tentacled aliens - help to make it all fun.
ALIENS made it into the New York Times––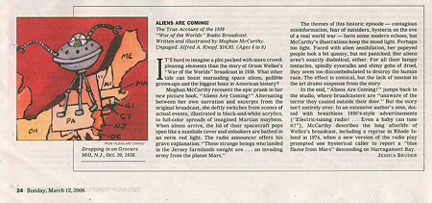 Library Media Connection

This simple picture book conveys a powerful message about the power of media. Radio was the primary media outlet for reporting breaking news in 1932. It was Oct. 30, 1932 when a live radio broadcast reported a startling message; Martians had landed in the United States. Panic ensued as the population believed that Martians were landing all over the United States. The events depicted in the book are true, as they recount what happened after the broadcast of the "War of the Worlds." The cartoon-like illustrations help paint fear and panic with the use of a dark palette of colors. Color is also used to differentiate between the truth, in b&w, and fiction, in color. Reader's theater could be performed using this story, as it is set up as a radio broadcast. This story provides a gripping start to a discussion into the power of the press whether it is information on the radio, on television, in the newspaper, or on the Internet.
The Orange County Register
Sunday, April 2, 2006
History kids can relate to Who invented potato chips? Did Martians land in 1938? These and other intriguing bits of history are explored in new books for young readers.
By ANN HALEY
Title: "Aliens Are Coming! The True Account of the 1938 'War of the Worlds' Radio Broadcast" by Meghan McCarthy Info: Alfred A. Knopf Books for Young Readers, $16.95, 40 pages, ages 4-8 Grade: B
You might like it if: You like outer-space stories.
It seems strange, in this era of 24-hour cable TV news and space exploration, that people could be fooled as easily and inadvertently as they were in 1938 into believing that Martians were invading the U.S. But it really happened, and this intriguing account shows how it was possible.
First, though, today's kids have to be introduced to a world without TV, let alone DVDs and computers. People's home entertainment in 1938 was through radio, and with what would become World War II already starting in Europe it wasn't unusual for news bulletins to interrupt entertainment programs. So on the night before Halloween, when a radio play started with dance music that quickly switched to a pretend news bulletin, things rapidly got out of hand.
Panicked listeners, who'd missed the announcements that this was a play being performed over the radio, thought the actors' descriptions of a Martian landing and invasion in New Jersey were real. Callers jammed phone lines and cars crowded the roads as people fled. Police questioned the actors and director Orson Welles, who as the play went on hadn't realized the consternation they were creating.
Author-illustrator Meghan McCarthy wisely keeps her story simple and immediate, with just the play's announcer and reporter's voices describing the supposed Martian invasion. Her simple artwork and wide-eyed characters convey the era's relative naiveté. An author's note adds detail for older readers, including how one actor studied real radio broadcasts of the Hindenburg airship crash to convey the right note of alarm in his voice - and how such confusion happened not once, but several more times when the radio play was performed again.
The Arizona Republic
Anne Stephenson Apr. 14, 2006 'Aliens Are Coming' Meghan McCarthy (Knopf, $16.95)
There couldn't be a more entertaining story for children: On the night before Halloween a group of actors performs a play on the radio, and the adults who hear it get so scared that they scream and call each other up and rush out of their houses and run away. Best of all, it really happened. This account of the 1938 War of the Worlds radio broadcast is easy to enjoy because McCarthy's aliens are the old-fashioned sort with antennae and silly shapes and no real menace in their eyes. But they pose interesting questions for children. What was it like when there were no televisions or computers, and people gathered around a radio to be entertained? Why did so many believe the story they heard? Were the aliens they imagined worse than what we see in movies today? Was the "prank" played by the actors a bad thing to do? It's a lesson for kids about the power of a book (H.G. Wells' The War of the Worlds) to inspire their imaginations. McCarthy's illustrations convey the feel of the time, and an author's note gives a more detailed account of what happened that night. For ages 4-8.
Waterbury Republican-American
A grand collection of books to please all young readers
by Bestsy Daley
Meghan McCarthy's "Aliens Are Coming" (Knopf Books for Young Readers) is an illustrated recreation of the famous 1938 Orson Welles broadcast of the updated "The War of the Worlds." Orson Welles used his Mercury Theatre radio show on CBS to play a Halloween prank on his listeners, using the original "The War of the Worlds" novel written by H.G Wells in 1898. The radio show said there was an alien invasion. The aliens were from Mars and they had invaded New Jersey and other cities. Welles used his Mercury Theatre cast of characters to perform this fictional radio play. When radio listeners heard the alarming report there was pandemonium because the report of the invasion interrupted a regular broadcast, just like the network would with a news bulletin. Unaware that tit was a hoax even though the announcer informed listeners three times that what they were hearing was a prank, there was widespread hysteria. Meghan McCarthy's text and pulp magazine art, reminiscent of the 1930s magazines, brings this fascinating event in American history to life. The picture book introduces today's children to an astonishing event in broadcasting. An author's note at the back of the book describes the event in detain, and the book explains the importance of radios in the 1930s before television and computers captured our attention.